The solution is different for the hardware/firmware you are using, please click on the appropriate tab to check the examples:
Go to  Services > Hotspot > Hotspot System > Separate WiFi from The Lan Bridge > DISABLE (then press Apply Settings)
Turn off DHCP server: Setup > Basic setup > Network Address Server Settings (DHCP)   > DISABLE (then Save)
NOTE: If you are using virtual SSIDs in your setup, those will also be set to go through the hotspot authentication by setting the LAN ports to paid ports. Also, you have to renew your IP or reboot your computer to see the changes.
Note the port number that you connect to. Any PC connecting to this port should be configured for DHCP, not a static ip address.
Select Bridge > Ports tab > then click on the + sign and add the port to the HS_bridge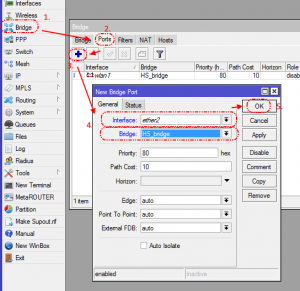 Go to Hotspot > Configuration and set Hotspot Mode to LAN & Wireless.
Log into your router administrator settings and perform the following changes:
Navigate to Network > Interfaces > click on the Edit button for the LAN network and scroll down at the bottom of the page and tick the "Disable DHCP for this interface" checkbox.
Click on the "Physical Settings" tab and make sure that the following three checkboxes are ticked:creates a bridge over specified interface(s)
Ethernet Adapter "eth0″ (lan)
Wireless Network: Master "HotspotSystem.com" (wifi)

Save and Apply the changes on the router.
That's it! Now all the LAN ports on the Ubiquiti router will be offering the hotspot functionality.